I have had a busy few days. My sister-in-law, Breanna, came to visit with her husband and their 3 kids. It was a lot of fun, but it was the most exhausting day and a half of my life! To be fair, the exhaustion was not all because of our guests. I had worked Thursday night and was only to sleep for about an hour on Friday before company came. Quincy loved having visitors, but Roxy on the other hand is not a big fan of kids. She spent their visit hiding under the bed and sneaking out when the kids were distracted.
On Friday, we went to the Public Gardens and went on the Swan Boats, then walked around the gardens. The kids were having a good time being silly.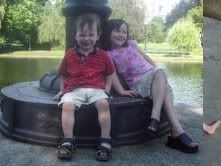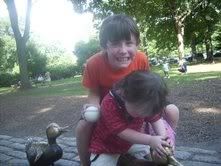 Then, Saturday we went to the beach and had a lovely time. My niece, Laura, wanted me to help her build a sand castle.
Let me tell you, there's a reason that I'm a nurse instead of an architect. For more lovely photos of the visit, visit
Breanna's Blog
.
Then the hospital called and asked me to pick up an extra 8 hour shift on Sunday. I had signed up for a ton of overtime this month, and if I worked the extra 8 hours on Sunday, I will get a bonus at the end of August. I'm not one to turn down (practically) free money. Then I had to work my regularly scheduled 12 hour shifts yesterday and today. Tomorrow I have to go into work- but only for a few hours. It's that time of year again... time to renew CPR! But I have Thursday to look forward to. A whole day off! A whole day to prepare for for our next set of visitors. Another one of my sister-in-laws, Emily, is coming this weekend with her daughter. We have a fun-filled weekend planned including the Aquarium and the Children's Museum! Fun, Fun, Fun!! :-)