There was a patient at the hospital who went home this week. She had been there a few months and I really fell in love with her. Her family is great. Very involved. Over her hospital stay, I became very close to both the patient and her mom. Her mom moved in to the hospital and was almost always there. She would go home for one day every week or two to spend time with her husband and other kids, but she always made sure that someone else from her family was there to stay with her daughter. She very quickly learned all aspects of her daughter's care. Her strength amazed me. I was sad that I wasn't working the day she was leaving, so I wasn't able to say good-bye.
When I got to work the other night, there was a blue envelope in my mailbox. Curiously, I opened it immediately.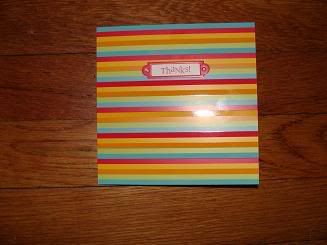 It was a thank you note from the family. They wanted to thank me for the care that I provided and say that they were going to miss me. There is a picture of the little girl in the card.
I don't know if they understand how much that meant- being thanked. Some people say that my job must be so rewarding. Other people say that they don't know how I can work with sick kids. Really, it's hard. Hard to bust your ass every day and have doctors, administration and families act like if you weren't doing it, someone else would be.
This little thank you note really made my day. It means more than the tote bag the hospital gave us last year for nurses week. It means more than the 3% raise that I got after a year. It's probably the most important thing that I will get from my time at the hospital.