For my birthday, Andrew bought me tickets to go see Collective Soul, Live and Counting Crows at Dutchess Stadium. My parents came along too. It was awesome. Great venue for a concert. It was General Admission seating, and we got there early to make sure that we had good seats. We sat in the seats (not on the field), but we were pretty close to the stage. They have some pretty good beers on draft at the stadium. We enjoyed Killians, Blue Moon Honey Moon, and Sam Adams Cherry Wheat. Yummy! Just what we needed to cool down in the August heat. I was surprised how many songs I remember from when I was growing up. All of the bands were excellent! I would go see each one of them again. My mom and I had some time to bond while the boys got another round.
My parents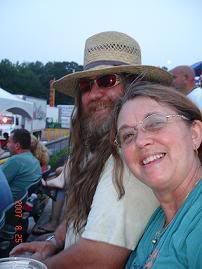 enjoyed the concert as much as Andrew and I did.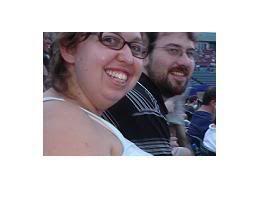 Well, Andrew made me a birthday dinner on August 11 (the day before my birthday), then we went out top dinner on my birthday, I had a small get together with the grand parents at my parent's house last weekend, and I celebrated my birthday again at the concert. If I keep it up at this rate, I'll be celebrating #23 until #24 rolls around!