I love my family, but I'll be the first to tell you that we're a bit odd. My most recent example is with my new favorite picture. My talented and visionary sister took this picture and used my wise grandfather as a model. To Bre and Pop: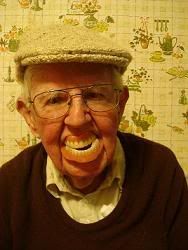 That picture is the new desktop on my computer. Isn't it hilarious? I can't help but smile every time I look at it.
What are you doing this weekend? We're thinking about taking a scenic drive to NH and going to a corn maze. Maybe we'll go somewhere to watch the game. I'm looking forward to a weekend off.
If you live in the Northeast, enjoy the warm temperatures this weekend!