If you remember my post- 10 confessions from 8/23/07- I mentioned that I want to be in every state by the time I'm 30. I had 11 more that I had to hit. But now... I'm down to 10!
Because of my ankle, we had to think of something to do that didn't involve much walking. Andrew had a hankering for Pizza Hut, and I wanted to cross another state off of my list. We just had to figure- did we want to go to Vermont or Rhode Island. When scoping out the proximity of Pizza Huts and other things to do, we decided to head north. There is a Pizza Hut in Concord, NH- about an hour and a half away. The pizza was yummy (their new dipping strips pizza with ham and pineapple), and the breadsticks were EXTRA yummy!
Then, we went another hour and a half northwest to Windsor, Vermont. The Harpoon brewery!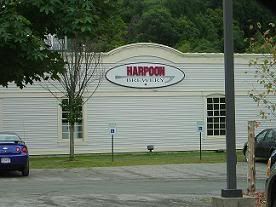 If you've never been to this brewery, their tour consists of a walking tour around the brewery so that you can see all aspects of the beer brewing process- from the raw ingredients to the bottling line. And the best part of the tour... free samples!
I know it might sound silly to you. But all we did was drive an hour and a half for Pizza Hut, then another hour and a half for free beer samples. If you can't do that in your twenties, when can you?
And the most important thing... only 10 states left!