You all may be getting tired of hearing about She-Ra, but too bad. She's cute as a button and I haven't done anything else exciting to talk about. So, here goes! Yesterday we went to the pet store so that I could buy She-Ra some things. I bought her some toys (Roxy doesn't like to share hers) and a little blue kitten collar. I like my pets to wear collars. I think it makes them look domesticated. She-Ra is starting to get the hang of the litter box. Her favorite spot to nap is this one particular windowsill- right next to my cornucopia. In fact, she's there right now. Here are some pictures from this morning.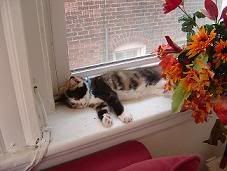 She LOVES this windowsill. And she tries to chew on my cornucopia.
I woke her up while taking her picture.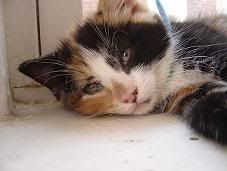 How can you not melt over that face?