I'll start off with my most exciting news. For those of you who have been following my ankle saga, it's finally starting to come to an end! The doctor told me today that I can go back to work on Wednesday, however I am on a restriction that I can not stand or walk for more than 30 minutes at a time. I explained that I am a nurse, so how am I supposed to work with that restriction? He told me to talk with my supervisor. Well, my supervisor was just as stumped as I was. We talked about different options and came up with this plan: my 12 hour overnight shift on Wednesday will be changed from 7p-7a to an 8-hour shift of 11p-7a. By 11pm, the kids will be sleeping and I won't be running around crazy for like 2 or 2.5 hours trying to get the kids settled, evening care done and evening meds given. And I will be able to get back to work. On Thursday morning, I'm going to tell my supervisor how I feel. If I feel ok, my shifts this weekend will be changed from 12 hur shifts to 8 hour shifts. If it hurts too much, then I can have the weekend off. I will be able to resume my normal schedule of three 12-hour shifts per week for my next scheduled shift after the weekend- Wednesday 9/26 when all restrictions are lifted. Yay!
In other news, as a shut-in, I have decorated my house for fall. The easiest part of the decor was to put my cute little dollar store scare-crow on the front door.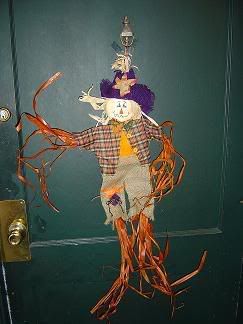 I got him last year and I just love him to pieces! I think he's so cute. I love his little face!
The rest of my decor is pretty subtle. But it took a lot of work. I cut the shapes of leaves out of construction paper and taped them to my windows.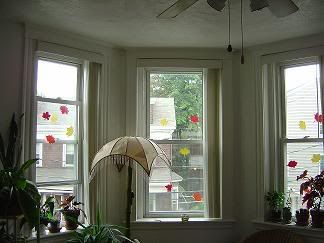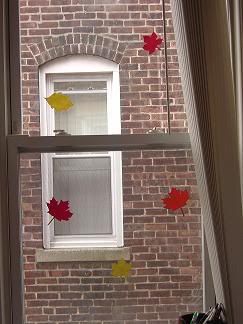 It was really time consuming to cut out each leaf with its intricate details, but I think it looks really cute. And you can see it from outside. I love my decorations!
I have 2 different types of maple leaves: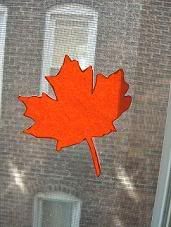 and an oak leaf!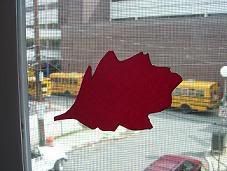 I think I am the only person in this building who decorates for holidays or seasons.
Also, as I mentioned in my post- 10 confessions from 8/23/07- we collect bottle caps. We plan on building a bar in our house someday, and we want the counter of the bar to be made of bottle caps. So far, we have 189! We still have a bunch more until we have enough for a whole bar, but it's a start.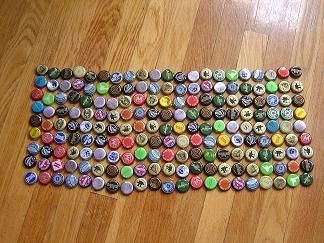 Cool, huh?