I can't wait for Halloween! It is totally my favorite holiday! I just love walking around in my costume bring smiles to everyone's face! I ordered my costume the other day. It came in today's mail. And yes, I'm wearing it right now!
I have had some pretty legendary Halloweens in the past. In high school, I used to host a party every year on Halloween. We didn't do anything crazy...just ask anyone. We went Trick or Treating until we were seniors!
Ah...the memories! 2000 was a good year! My friend, Amanda, was Cher. I was Marilyn Monroe. Andrew was the Eat Me Weiner. Marc was a scary monster. And Stef was a dog. Good times!
Senior year, I was looking pretty smoking as I Dream of Jeannie. Andrew didn't want to dress up, but he let me put funny eyebrows, mustache and a hat on him.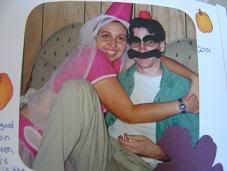 In 2003, in college, I was Josie from Josie and the Pussycats.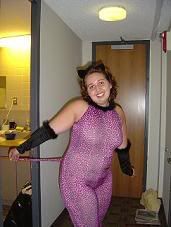 I'd have to say that one of my best years was 2005. I was working for my parents, and everyone there dresses up every year. We looked pretty awesome.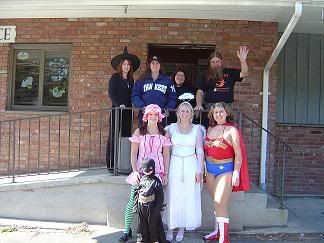 Later that night, Quincy and I posed for a photo op. And yes, it was a meeting of the justice league. In case you can't tell, Quincy was Batman, and I was Wonder Woman!
And as for this year... well, if you want to see me in my costume, that's going to have to wait until Halloween. But I will tell you that it's going to BEE awesome!