Yesterday, I was able to keep myself busy so that I did not die from boredom. I worked on a project. I really like cooking. I usually find or think of recipes and tinker around with them a little bit until I feel that I have the best product. Well, I made myself a little book to keep recipes in. I bought and decorated a 3 ring binder. Want to see how it turned out?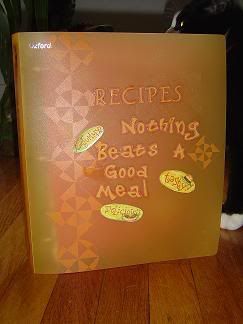 And then, inside, I took a folder, cut it in half and decorated it. The folder halves are going to act as tabs, keeping the recipes for different courses separate. I have folders for:
Drinks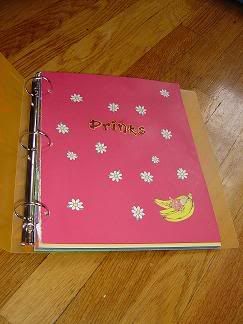 Appetizers
Soups
Main Courses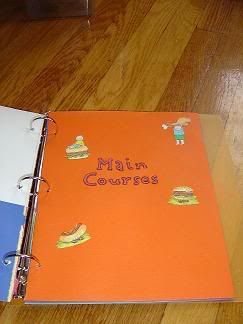 Side Dishes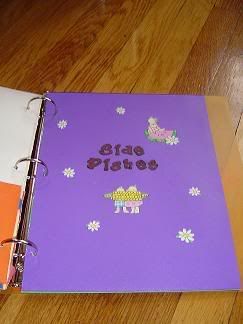 and Desserts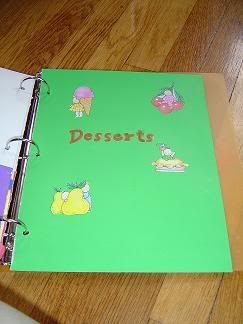 Speaking of desserts, I made a cake yesterday that we brought to my Aunt and Uncle's house. We went up there to watch the game (Go Yankees!!). I made a Black Russian Cake. Found the recipe on
allrecipes.com.
Black Russian Cake:
1 (18.25 ounce) package moist yellow cake mix
1 (5.9 ounce) package instant chocolate pudding mix
4 eggs
1/2 cup white sugar
1 cup vegetable oil
1/4 cup vodka
1/4 cup coffee flavored liqueur
3/4 cup water
1/4 cup coffee flavored liqueur
1 cup confectioners' sugar
Preheat oven to 350 degrees F (175 degrees C). Grease and flour a 10 inch Bundt pan.

In a large bowl, combine the cake mix, pudding mix, eggs, white sugar, oil, vodka, 1/4 cup liqueur, and water. Beat for four minutes. Pour batter into prepared Bundt pan.

Bake at 350 degrees F (175 degrees C) for 40 minutes, or until toothpick inserted in center of cake comes out clean. Cool on a rack.

Make a glaze by combining 1/4 cup coffee liqueur and 1/2 cup confectioners' sugar. Turn cake over on a cake plate. Poke cake several times with a fork. Cover with glaze, and dust with remaining 1/2 cup confectioners' sugar.
I decided to add some raspberries on top. Also, I used twice as much glaze as the recipe calls for (1/2 cup coffee liqueur and 1/2 cup confectioners sugar- then I just sprinkled a little bit of confectioners sugar on top). It was very yummy. And it helped power the Yankees to a come-from-behind win!! Yay!!