Before I show you what I did today, I forgot to post my weekly photo update of my ankle. It
IS
getting better, but it's still swollen. Almost all of the swelling is on the outside back of my ankle. There are still bruises, too. The worst of the bruises are actually on my calf now. Check it out.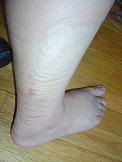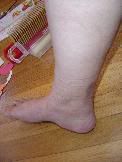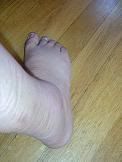 Ok. Now onto my decorations. I had to go to the gorcery store today, and I made a quick stop at the dollar store. You know, a good dollar store is probably my favorite kids of store. I bought this cute little decorative broom (not bad for $1!!). I put it on the outside of the bathroom door.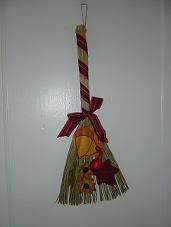 Now this decoration, my little cornucopia, was my afternoon project. I bought it in numerous pieces. There was: the cornucopia basket, 5 different bunches of silk flowers, and a little plastic gourd. I know that $7 is a little pricey for an afternoon of entertainment, but I am so proud of it, and I love it, and it's much more special that if I was to buy one at the store. Plus, I can keep it up until Thanksgiving. You like?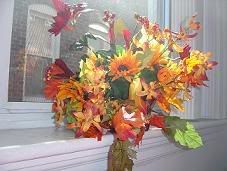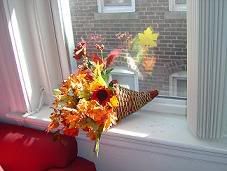 I think my fall decorating is done...at least until October 1st when I can add my Halloween decorations to the bunch!